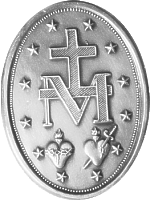 The Medal of the Immaculate Conception, popularly known as the Miraculous Medal, is unique among all medals. It was designed by the Blessed Virgin Mary herself. Our Lady manifested the Medal to Sister (now Saint) Catherine Laboure on November 27, 1830 in the motherhouse of the Daughters of Charity of St. Vincent de Paul and St. Louise de Marillac, in Paris. Catherine saw Our Lady standing on a globe, with dazzling rays of light streaming from her outstretched hands. Framing the figure was an inscription: O Mary, conceived without sin, pray for us who have recourse to thee. Then Mary spoke to Catherine: "Have a medal struck upon this model. Those who wear it will receive great graces, especially if they wear it around the neck."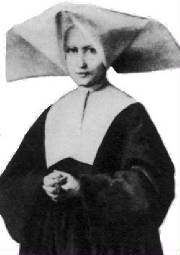 Catherine Labouré was born on the 2nd of May, 1806 at Fainles-Moutiers, Burgundy, France. She was the ninth child in a happy family of eleven. God made known the choice of this soul by marking her at an early age with the seal of suffering, for when she was only nine years old she lost her mother.

Saint Catherine Labouré responded to the divine call by entering the Community of the Daughters of Charity of St. Vincent de Paul in Paris. During the first months of her novitiate, she was favored with a number of apparitions of the Blessed Virgin, who confided to her the mission of having the Miraculous Medal made.

Until shortly before her death Sister Catherine kept a strict silence concerning these apparitions, speaking of them only to her confessor, according to the instructions of Our Lady.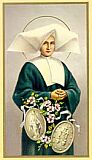 On the last day of December, 1876, Saint Catherine left this earth . Her body was exhumed in 1933 and found in perfect condition. She lived for seventy years and had been buried for fifty-seven years, yet her body was incorrupt. As if she was just asleep. But what else would we expect of one who had enjoyed the extraordinary privilege of resting her hands on the knees of the Blessed Virgin for more than two hours during one of the apparitions. Sister Catherine was canonized by Pope Pius XII on July 27, 1947.
Whenever Saint Catherine went to the chapel to pray she said,
I place myself before the good God and I say to Him:
'Lord, here I am
give me what You will.'

If He gives me something,
I am very pleased and I thank Him.
If He gives me nothing,
I still thank Him because I do not deserve anything.

And then again, I tell Him
all that passes through my mind;
I recount my pains and my joys and ... I listen.

If you listen to Him, He will speak to you also,
because with the good God it is necessary to speak and to listen.

He will always speak to you
if you go to Him simply and sincerely